Buy a Weil-McLain EG-35-S-PIDN Boiler From All Week And Get It Installed At Best Rates Anywhere In New Jersey Today!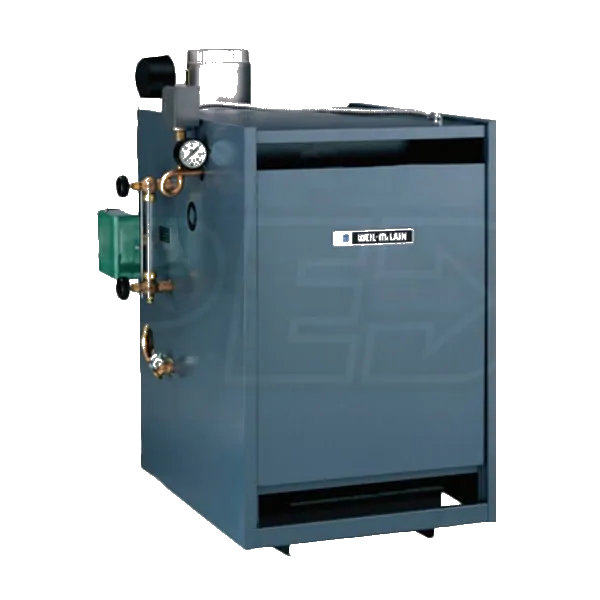 Description
Over the last century, Weil-McLain has built a reputation of building and customizing some of the most reliable boilers in the marketplace. Their dedication to producing lasting heating solutions is seen in every system they make. The EG is one of Weil-McLain's most versatile natural draft boilers. It is available in natural gas or liquid propane for both hot water and steam applications. The EG-35-S-PIDN is a natural gas steam boiler with Annual Fuel Utilization Efficiency of 82.9% AFUE. These are well suited for new construction, and it makes an excellent replacement boiler as well. Weil-McLain has used cast-iron for the EG's heat exchanger, a material known for its long life. The blend of durability, efficiency, and versatility in the EG makes it an attractive boiler for all systems.
STANDARD FEATURES
Venting Improvements
By utilizing a horizontal-to-vertical draft hood, Weil-McLain has avoided the need for bulky traditional draft hoods. An included automatic vent damper provides ideal combustion conditions to reduce fuel use and improve efficiency.
Efficiency-Boosting Insulation
Heat retention is critical to energy efficiency. Heat leakage represents energy use without any comfort gains. An extended, insulated steel jacket prevents heat from escaping the EG and improves the efficiency.
Product Resources: (Downloads)
Weil-McLain Boiler EG-35-S-PIDN Sales, Installation, Repair and Maintenance Service NJ
At All Week we're proud to be Weil-McLain® long time partners and authorized dealers in the entire state of New Jersey. For decades we've recommended and successfully installed 100's of different Weil-McLain appliances including furnaces and ac's, for residential and commercial all over NJ.
All our clients appreciate our recommendation and are now loyal to the Weil-McLain brand, due to the high quality and reliability of their products. To this day we proudly continue the tradition and the solid partnership with Weil-McLain.
All our hvac technicians get Weil-McLain specific training on each and every model of their equipment, and we make sure they remain up to date with any changes that come into play with existing equipment or new equipment on the market.
We carry a large and diverse inventory of Weil-McLain equipment in our warehouse at all times, including; AC units, furnaces, coiles, split units and more.
Are You Looking To Install Weil-McLain EG-35-S-PIDN Boiler For You NJ Home or Business?
Our certified and trained technicians can help with a successful installation as well as the repair or maintenance of an older "EG-35-S-PIDN" Weil McLean boiler at your home or business. Contact us today for more information and assistance.