Oil to Gas Conversion NJ Best Service
Any home owner should strongly consider numerous factors when thinking to convert form oil based heating system to a gas based one. Oil and gas have been the two primary alternatives accessible. However lately, gas heating systems became a trend and a favorite among property owners.
The financial aspect of the conversion is often a major factor in the decision making, as gas cost is significantly less expensive than oil, so in the long run big savings are foreseen!
Environmental safety comes second; since it's known that oil tanks frequently spill which's harmful to earth and hard to cleanup. In addition the state of New Jersey, hold property owners responsible to clean tank oil evacuation absorbed in the ground and the process is often expensive.
Why selecting All Week for your home or business oil to gas conversion?
Since the early days of this trend we've been among the pioneers who adopted this type of conversion as a cleaner and more cost efficient way of heating for residential and commercial. Our certified hvac technicians learned the in and out of the process and became masters of the specialty. Our oil to gas heating system conversion process and advantages include the following:
Heating Conversion Equipment and complete installation
Oil Furnace to High Efficiency Energy Star® Rated Gas Furnace Conversion
Oil Boiler to High Efficiency Energy Star® Rated Gas Boiler Conversion
Gas Burner Installation
Multi Zone Systems
$500 OFF Conversions
The Benefits Of Converting To Natural Gas Heating
It is ideal to pay an onetime charge for a gas conversion, than to frequently encounter problems with oil tanks. Also, with the utilization of gas you will have the capacity to have significantly more exact temperature control for your water temperature for different purposes.  The use of gas accelerates the process of water heating compared to oil. Gas is significantly more energy efficient and simply ideal for the environment.
Health is also a major factor in deciding to switch to gas use instead of oil. Despite the combustive characteristic of gas, less harmful particles will dissolve in the air; which implies far less will enter your lungs. In particular, utilizing gas contrasted with oil takes into account a lesser measure of carbon dioxide to be discharged in the air. This is definitely better for your well being and health.
The property space saving factor, gas tanks obviously don't consume as much of your property space as do oil tanks, which leaves more space for more important use.
 Natural gas is economical and efficient so you'll make considerable saving on your heating bill over oil heat.
Natural gas heating has an excellent safety record versus oil heating.
Natural gas is a domestic US natural resource, with an abundant supply, contrary to oil which is mostly imported and its availability is frequently affected by foreign events.
The process of oil to gas conversions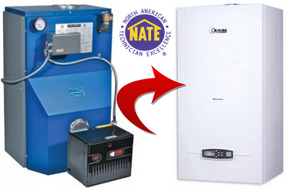 We just presented few of the advantages of oil to gas conversion, but If you research more you'll certainly find more. The processes may or may not be complicated, depending on the property and the needs of home owners, but our knowledge and expertise , will make it a worry free process and good experience! So if you're a property owner in North Jersey interested to find out more about oil to gas conversion or simply decided to convert from an oil heating system to a gas heating system, please feel free to consult us our hvac experts are available around the clock and will be glad to assist you. And Oh! The consultation is free, so call us at (888) 333-2422

Bergen – Passaic – Hudson – Morris – Union – Essex – Middlesex – Hunterdon – Mercer – Sussex – Monmouth – Somerset – Warren – Ocean