PAYNE furnace repair service NJ
Payne Furnace Service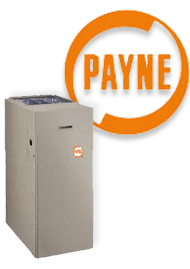 All Week Heating is a leading provider of Payne furnace repairs, service, installation and replacement for commercial and residential customers in New Jersey. We are certified, licensed, bonded and insured to complete all furnace services. Each of our heating techs are always available to complete furnace service, or emergency repairs when you need it most – and always on your time schedule. And regardless of the size of your furnace job – we will deliver honest, dependable and trustworthy service.
Payne Furnace Installation
All Week Heating has the experience to install your new Payne unit on time and without the stress. Our highly trained technicians have literally installed every type of Payne furnace imaginable – both residential and commercial customers. Payne units are manufactured to operate under extreme temperatures – so you can depend on them to work very well in New Jersey. Our professional technicians will inspect all aspects of your heating system before they mark the job complete. Contact us today to learn about all of our Payne furnaces we sell and install.
Payne Furnace Repair & Maintenance
When you're looking for an affordable way to keep your new Payne furnace maintained – contact the leaders at All Week Heating. We customize our maintenance programs specifically to meet the needs of every specific Payne furnace that is manufactured. Not all systems are identical – which is why we offer Payne Furnace maintenance, repairs and service for residential furnaces and commercial customers. Contact our team today to ask about the repairs and service programs we offer to Payne customers in New Jersey.
Payne Furnace Replacement
Payne manufactures Energy Star® rated furnaces that operate on electricity or gas. Each of the products they manufacture is designed for specific applications – for example; they have dozens of models specifically for residential customers. They also stand by the quality of their products by offering exceptional service warranties – and when you work with a dependable Payne service technician to keep them serviced as scheduled; can last for several years.
Our ultimate goal is to make you as comfortable as possible – without having to break the bank. Our professional sales team is always standing by to answer any questions you have about the Payne furnace sales, replacement, maintenance, installation or repairs that you require. Contact our team today and we'll be happy to provide an affordable solution for your Payne furnace service needs in New Jersey.
Payne Furnaces Manufacturer Info