Heating System Tune-up And Maintenance Service NJ
A heating system, require regular maintainance in order to extend its lifespan.
Similarly to other appliances a heating system tune-up is important for the optimal performance of the unit.
When used extensively heating system loose efficiency as it accumulates dust, dirt and other paricles through time – this will cause increased energy and repair bills.
A full heating system tune-up done by hvac professionals, will ensure that your system is working properly.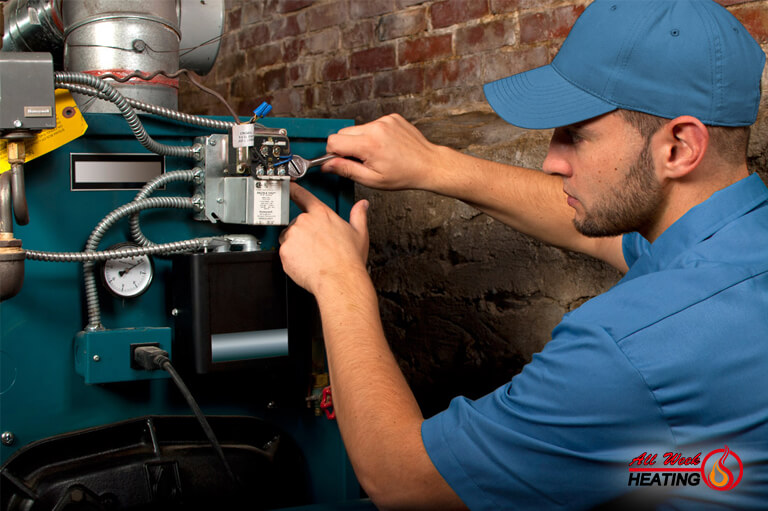 At All Week, we provide reliable and comprehensive heating system tune-up service for residential and commercial in Northern & Central NJ.
We inspect the equipment thoroughly to ensure all parts work properly, and that there are no sign of malfunction or difectivness that could lead to the system breakdown.
With our heating tune-up service we aim prevent any system breakdown, reduce your energy bills while staying comfortable throughout the cold season.
It's common to have heating systems failure in the middle of the winter, and that's due to its extensive use, so we strongly recommend scheduling a yearly pre-winter
system maintenance and tune-up service, preferably during the fall season, to prevent it from failing on you when you need it the most.
Keep Warm Every Winter with Reliable Heating System Maintenance & Tune-up
Our heating system tune-up and maintenance service cover:
Both old or new heating systems.
Electric Furnaces, Gas Furnaces, Boilers, Heat pumps
We inspect every part as well as the entire machinery of the system
We'll ensure that all system parts are there and functioning properly
We'll Replace the system's filter
We'll Clean and adjust any loose parts
We'll test the unit's safety controls
We'll checking for any gas leaks or any minor problems
We'll inspect the system for any potential problems and efficiency issues
We'll inspect the system for any health risks associated with a broken or improperly working system
We'll inspect and tighten all the electrical wiring
We'll inspect pilot burner
We'll test air flow duct system for carbon monoxide traces
We'll test ignition ensuring it's working safely and properly
We'll check and level thermostat
We'll clean up furnace exterior
Advantages Of Using Our Complete Heating System Tune-up Service:
We are committed to offer outstanding maintenance services at affordable rates.
We guaranty some of the best parts and labor warranties in the industry in NJ, covering several types of heating systems.
Comprehensive Maintenance for Most Heating Systems
Get serviced by skilled technicians with extensive hvac training, capable of handling any kind of heating maintenance service.
We use advanced techniques and state-of-the-art tools and technology to perform heating tune-up services.
Why You Should Have A Yearly System Tune-up Service?
Among the benefits of regular heating system tune-ups and maintenance are:
An increase in system efficiency
More savings on energy bills
Health improvement and safety
Less chances for a system breakdowns
Avoid suden breakdowns and emergency repairs cost