Buy a Carrier® 59SC2C080S21–20 Gas Furnace From All Week And Get It Installed At Best Rates Anywhere In New Jersey Today!
Product Description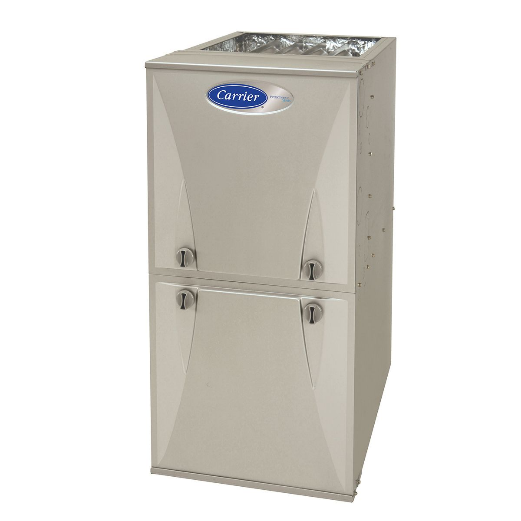 59SC2C080S21–20
59SC
= Comfort™ Series Single-Stage 4-Way Multipoise Condensing Gas Furnace
2
= +92 AFUE
C
= Major Series
080
= 80,000 Btuh
S
= Standard Motor
21
= 21″ Width
20
= 2000 CFM Airflow
Looking for an energy efficiency of 92.1% AFUE gas efficiency and workhorse PSC blower motor well the 59SC2 Multipoise Comfort Series Condensing Gas Furnace is a great choice. This gas furnace also features a multipoise installation flexibility, and is available in eight model sizes to fit in any space that you need. It can be vented for direct vent/two-pipe, ventilated combustion air, or single-pipe applications. All units meet our Air Quality Management District emission requirements, and are certified for mobile/manufactured home use.
Are You Looking To Install a Carrier® 59SC2C080S21–20 Furnace For You NJ Home or Business?
4-Way design for upflow, downflow or horizontal installation.
Installation flexibility with a 360-degree rotating elbow.
Multiple venting options, including optional through-the cabinet downflow and horizontal venting.
Ideal condensing furnace cabinet height spaces
Silicon Nitride Power Heat™ Hot Surface Igniter.
Aluminized-steel primary heat exchanger.
Stainless steel condensing secondary heat exchanger.
High-quality corrosion-resistant pre-painted steel cabinet with edges for safety measures.
Factory-configured ready for directional applications.
Direct-vent/sealed combustion
PSC blower motor, single-speed inducer motor, and single-stage gas valve.
Self-diagnostics with SuperBrite LED.
Approved for Twinning applications (60-12 through 120-20 sizes, only)
Propane convertible accessibility
Approved for Manufactured Housing/Mobile Home applications (ask for details)
Residential installations may be eligible for consumer financing through the Retail Credit program.
Certified to leak 2% or less of nominal air conditioning CFM delivered when pressurized to 1-in. water column with all present air inlets, air outlets, and condensate drain port(s) sealed.
Product Resources: (Downloads)
Carrier Gas Furnace Model: 59SC2C080S21–20 Sales, Installation, Repair and Maintenance Service NJ
At All Week we're proud to be Carrier® long time partners and authorized dealers in the entire state of New Jersey. For decades we've recommended and successfully installed 100's of different Carrier appliances including furnaces and ac's, for residential and commercial all over NJ.
All our clients appreciate our recommendation and are now loyal to the Carrier brand, due to the high quality and reliability of its products. And to this day we proudly continue the good tradition and the solid partnership with Carrier.
All our hvac technicians get manufacturer training on each and every model of Carrier equipment we carry, we make sure they remain up to date with any changes in the production of existing equipment or new equipment on the market.
We carry a large and diverse inventory of Carrier equipment in our warehouse at all times, including; AC units, furnaces, coiles, split units and more.
Are You Looking To Install a Carrier® 59SC2C080S21—1—20 Furnace For You NJ Home or Business?
Our certified and trained technicians can help with a successful installation of a new as well as the repair or maintenance of an older 59SC2C080S21–20 Carrier furnace at your home or business. Contact us today for more information and assistance.