Buy a Carrier® 58CTW045—1—12 Gas Furnace From All Week And Get It Installed At Best Rates Anywhere In New Jersey Today!
Product Description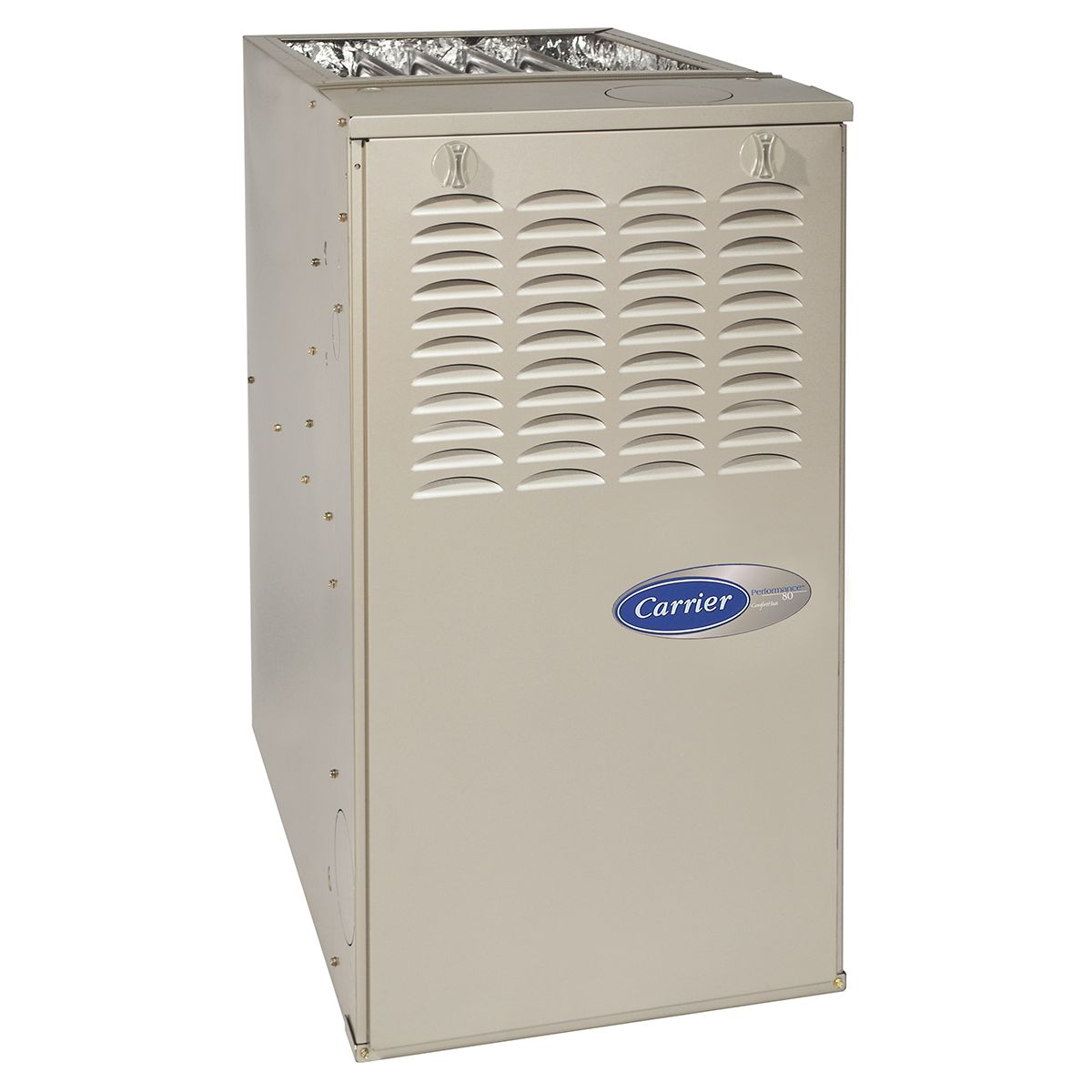 Carrier® Performance™ 80% AFUE 45000 Btu 2-Stage Variable Speed Multipoise Gas Furnace Model:
58CTW045—1—12
58CTW
= Two-Stage 4-Way Multipoise
045
= 44,000 Btuh Input Capacity
1
= Series Number
12
= 1200 CFM Nominal cooling size
THE PERFORMANCE 80 GAS FURNACE
The 58CTW/58CTV Two-Stage, Variable-Speed 4-way Multipoise Gas Furnace offers nothing but a unique and high class comfort in their class with Comfort Heat™ technology furnace :reduced drafts, reduced sound levels, longer cycles, less temperature swings between cycles and less temperature differences between rooms. Its unique and intelligent microprocessor controls adapts to the heating requirements of the home by automatically adjusting high and low heat times to maximize and ensure nothing short of comfort. The 58CTW/58CTV furnaces are well approved and insured for use with natural or propane gas.
Carrier® 58CTW045—1—12 Furnace Standard Features
ComfortHeat™ Technology smart microprocessor regulator.
Two-stage heating with single-stage thermostat with peculiar Adaptive regulation Technology.
A completely reduced operating sound through low-stage operation and QuieTech™ system.
SmartEvap™-Humidity regulator, anytime that a Thermidistat™ control is being used.
Comfort Fan™ adjustable constant fan speed from the thermostat.
Microprocessor based regulation center improved diagnostics with LED and reflective sight glass Stores fault codes during power outages Adjustable heating air temperature rise Adjustable cooling airflow.
4-way Multipoise furnace, 13 release applications.
Compact design – only 33-1/3 in. (847 mm) tall.
Power Heat™ Igniter.
To facilitate decent release of furnace, it has a Draft defense switch.
Blower chamber which is insulated.
Interior hatch for impenetrable sealing.
About 2% percent or less of its nominal air conditioning CFM delivered when pressurized to 1-In. Water Gauge with all present air inlets and air outlets sealed.
HYBRID HEAT® Dual Fuel System compatible
Any model used with accessory vent kit are known to be Chimney Friendly.
Adjustable-speed ECM blower motor with high SEER ratings for AC and HP systems when likened to the Air Conditioning Heating and Refrigeration Institute's standard coil-only Rating when paired with selected Carrier evaporator coils.
Product Resources: (Downloads)
Carrier Gas Furnace Model: 58CTW045—1—12 Sales, Installation, Repair and Maintenance Service NJ
At All Week we're proud to be Carrier® long time partners and authorized dealers in the entire state of New Jersey. For decades we've recommended and successfully installed 100's of different Carrier appliances including furnaces and ac's, for residential and commercial all over NJ.
All our clients appreciate our recommendation and are now loyal to the Carrier brand, due to the high quality and reliability of their products. To this day we proudly continue the tradition and the solid partnership with Carrier.
All our hvac technicians get Carrier specific training on each and every model of their equipment, and we make sure they remain up to date with any changes that come into play with existing equipment or new equipment on the market.
We carry a large and diverse inventory of Carrier equipment in our warehouse at all times, including; AC units, furnaces, coiles, split units and more.
Are You Looking To Install a Carrier® 58CTW045—1—12 Furnace For You NJ Home or Business?
Our certified and trained technicians can help with a successful installation as well as the repair or maintenance of an older 58CTW045—1—12 Carrier furnace at your home or business. Contact us today for more information and assistance.