Residential & Commercial Boiler repair service West Paterson NJ

What should people consider when they hire boiler repairs experts? Here are some tips. First, you should consider their quality. One way to determine this is by the feedback given by their previous clients. You can search the Internet for their reviews—there are a lot online—or you can ask around the people you know who had just their boilers repaired by certain companies. Another thing you should consider is their price. Are their prices reasonable enough for the service they offer and the feedback their previous clients give them? You should also consider their service availability? Are they available at the time and day you are free? What if you are only free on a weekend and they are not? Who would adjust? You might as well consider their approach to your problem: do they feel the urgency of your need or not?
Boiler Installation, Maintenace and Replacements West Paterson NJ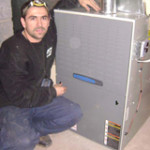 Boiler maintenance is another type of boiler service that people ask for. It is done to ensure that all the parts and the whole of the heating system and boiler are I synch and are working in good manner. Maintenance also reveals that there are damages that need to be addressed as soon as possible to keep the system working just fine. So how often should it be done? It depends on your boiler. The older your boiler is, the more frequent should you have it undergo maintenance to ensure that its parts are all in good condition and that it will not break down anytime soon.
Another common as hot water boilers service, gas-steam boiler service, and oil hot water boilers service asked by the residents is boiler installation. Especially for new homeowners, boiler installations are very crucial and should not be procrastinated; it should be done months even before the winter begins as it will assure that you will have the service you need before the cold starts. All Week Pluming and Heating provides boiler installations and all other boiler services at any day of the week for you convenience. Call them now for more information.
More boiler repair resources
Boiler Repairs Passaic County NJ
Boiler Repairs Services
Furnace repair service in West Paterson New Jersey
more heating repair and services in West Paterson New Jersey
Our West Paterson Location
Adress: 260 McBride Ave Paterson, NJ 07501
Phone: (973) 247-2777
We provide boiler service in the following towns in Passaic County 24/7